Costa Rica Cuisine & Restaurant
Savor the bounty of Costa Rica at any Greentique table.
There is serious thought put into creating some truly innovative dishes with fresh, locally sourced seafood, produce, and meat and poultry. I found delicious, interesting food . . . something unique and unexpected in Costa Rica's emerging cuisine movement.
Costa Rican Cusine & Restaurant
El Sendero
Villa Blanca, San Ramón
El Sendero is the restaurant destination in Costa Rica's Central Highlands for truly sumptuous Costa Rican cuisine. Dining right on the edge of the cloud forest, this incredibly beautiful restaurant with its warm, gracious service puts guests on a culinary path of discovery of the exotic flavors, traditional recipes, and inspired preparation influenced by a thousand years of Mesoamerican migration across Central America. Renown for locally sourced and organically grown ingredients, and featuring an incredibly eclectic wine list for absolutely brilliant pairing, the award-winning El Sendero is one of the top-rated restaurants in all of Costa Rica.
Chef Hannia Campos Orozco
Read Hannia's Profile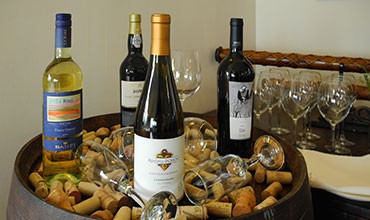 This is a must when visiting Costa Rica. One word – MAGIC.

"One of the highlights of this hotel is the food, by far one of the best meals I've ever experienced in my life, and knowing that many of the ingredients come from the organic garden, ahhh, that just makes it even better. What a gift to your senses!"

Chef Olmos Dixon Ceferino Fermin
Read Dixon's Profile
The Great Room
Águila de Osa, Drake Bay
There is simply no finer eating experience in the Osa region than The Great Room at Águila de Osa, where a truly distinctive and adventurous style of Pan-American cuisine is handcrafted by Águila de Osa's Chef Dixon. Sourced from the pristine waters and local farms of the Osa Peninsula, guests are served in the spectacular Great Room, exploring together the bounty of the freshest seafood, plus premium cage-free poultry, choice cuts of beef and pork, and simply gorgeous local produce and organic herbs. Dixon's commitment to innovative combinations of local ingredients and regional recipes, coupled with an uncompromising passion for authenticity, bring out the very best of the food itself, making each meal its own exceptional Costa Rica experience. Breakfast, lunch and dinner inclusive for hotel guests. Area visitor dining by reservation, please.
Unbelievable!
"The food was unbelievable . . . it was gourmet meals three meals a day. I really cannot say enough about the food – it was terrific!"
Claro Que Sí
Sí Como No, Manuel Antonio
Majestic, panoramic views of the Pacific Ocean, framed by the vivid green tropical forest that races down the hillsides to the ocean's edge, is your backdrop for two of the best dining experiences in this legendary Manuel Antonio resort destination. Barefoot luxury is the dining vibe at the Claro Que Si, where fresh, artisan seafood, cage-free poultry, hand-selected beef and pork, and a rainbow of locally sourced regional produce are part of a fierce new style of Central Pacific cooking that is changing the culinary landscape of Manuel Antonio.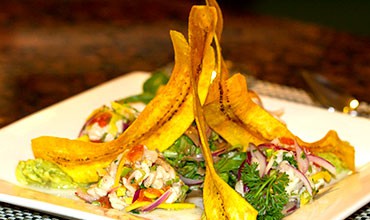 A Manuel Antonio Must!
"Claro Que Sí . . . one of the top-ranked meals I have ever had, and by far the best I have had in Manuel Antonio."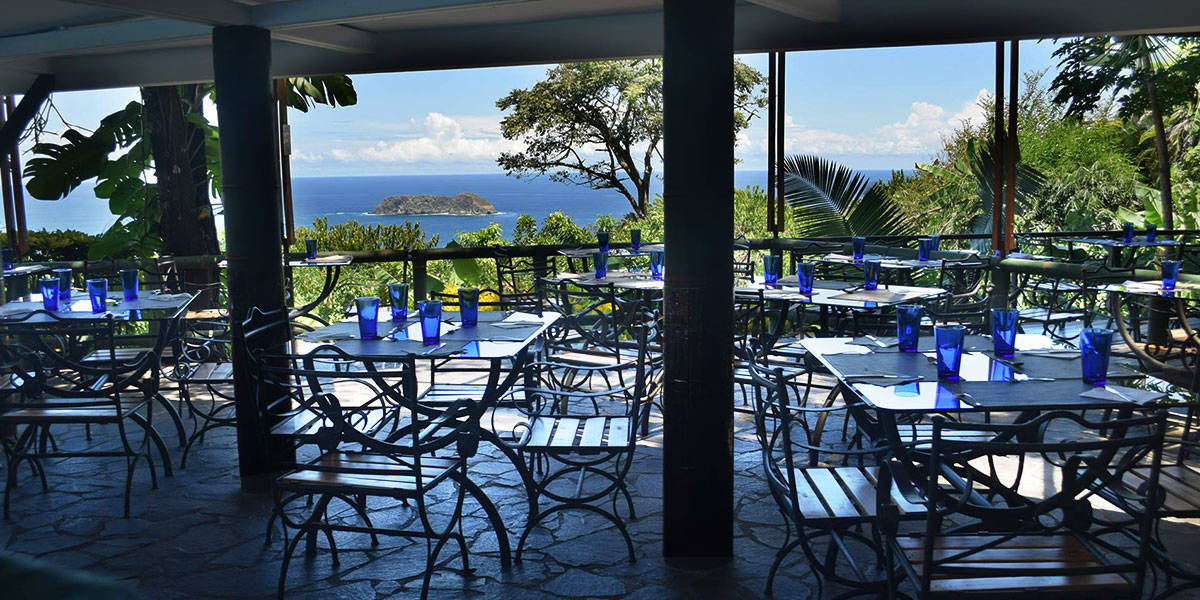 Rico Tico Jungle Grill
Si Como No, Manuel Antonio
Enjoy casual all-day dining ensconced in a jungle terrace at Rico Tico Jungle Grill. This is pura vida food and fun at its very best, with full poolside service, swim up bar, and an extensive menu of traditional Costa Rican dishes, classic tropical specialties, and some incredible takes on regional favorites enjoyed on both the Pacific and Atlantic sides of this incredible country.
"When you're on vacation, it's important to experience local cuisine, and Rico Tico made the Costa Rican spices and food the highlight of the day!"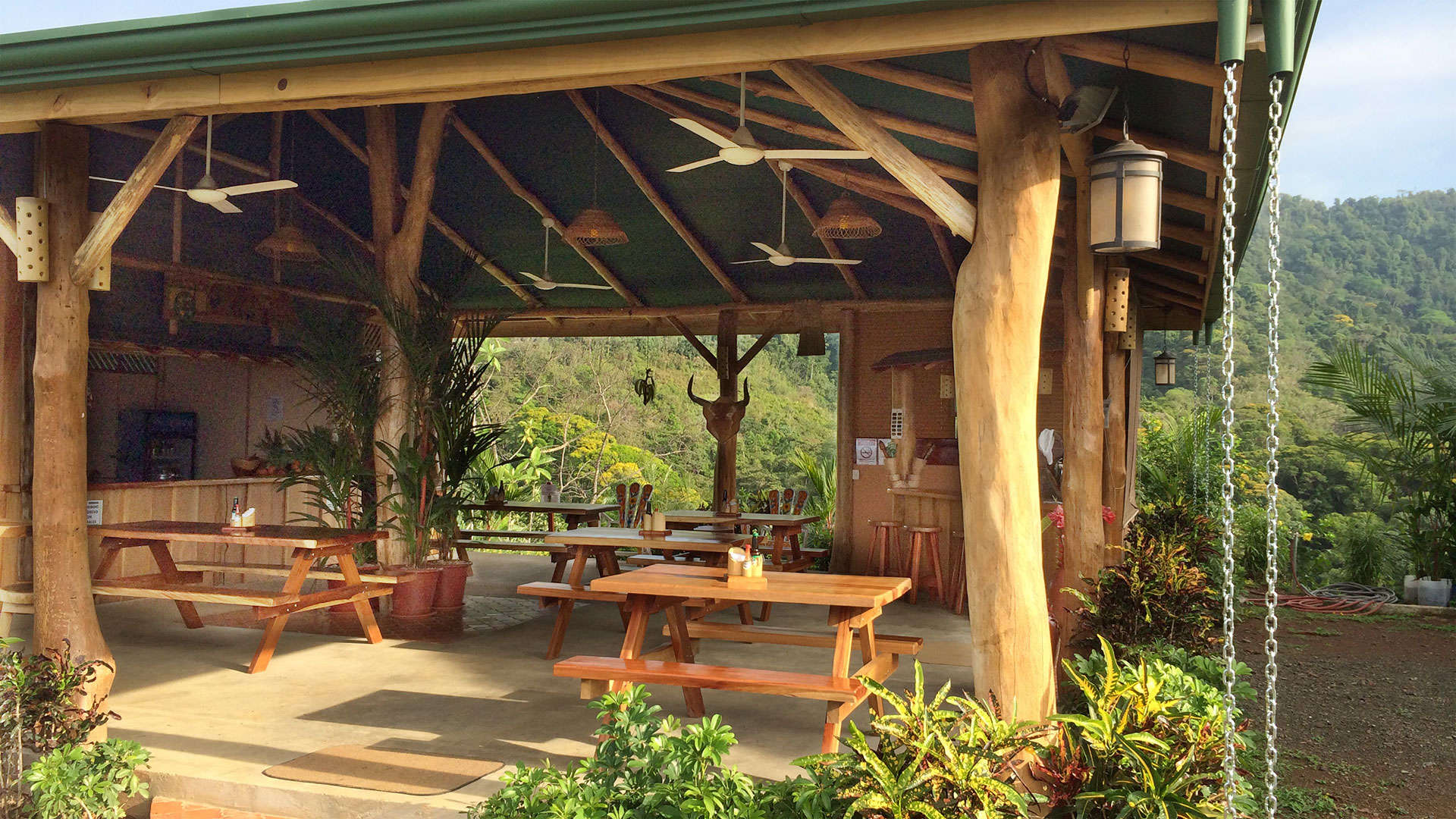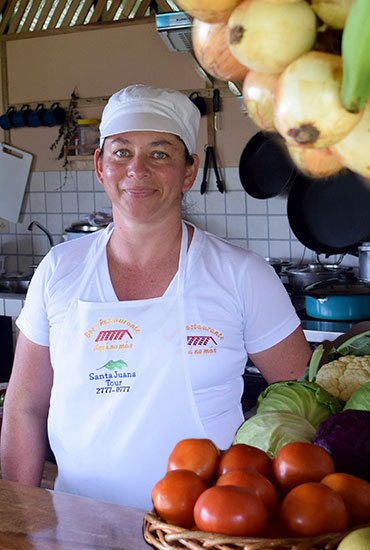 Read Roxana's Profile
El Mirador
Santa Juana Lodge, Santa Juana Pueblo
El Mirador Restaurant sits atop a beautiful terraced hill on the slopes of the rugged Fila Chonta Mountains. There are only two ways to discover the authentic taste of the traditional rural Costa Rican home cooking — on the Santa Juana Rural Mountain Adventure Tour or as guests of the new Santa Juana Rural Mountain Adventure Lodge.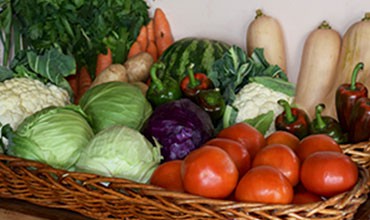 Heaven couldn't be better!
"The essense of The Real Costa Rica. The food prepared by the local ladies of the town can best be described as 'comfort food' . . . the taste of home."